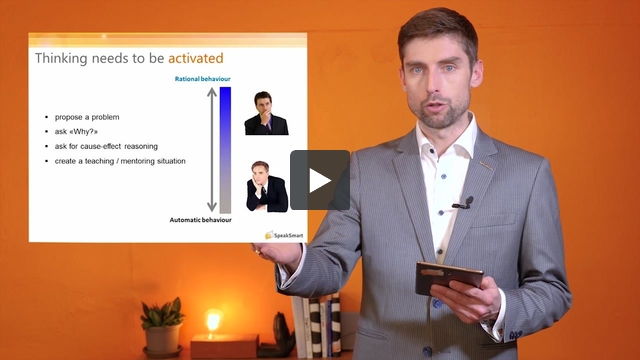 Argument as a thinking device is ideal for analysing gathered information, finding and structuring elements of reasoning (claim, evidence etc) and bringing them together into a coherent logical position.
The video-training consists of three videos that cover the main techniques and models of building, analyzing, and countering arguments and argument systems, of structured listening and rational interpersonal communication. Videos contain instructions for exercises that can be performed while watching. Content of the e-training videos:

Part 1: Rational Thinking. 36 minutes

Part 2: Argument Construction and Structered Listening. 35 minutes

Part 3: Analysis and Response. 36 minutes.

You don't have to watch the video from start to finish, you can pause it and come back to it later. Trainer
Margo Loor.

Videotraining:
Training volume: 1.4

academic hours



Price: 119 € + VAT /pp
Training time: access to the video is granted right after the invoice is paid. Access will last for 3 months

.



Video material is protected by copyright and downloading or sharing the video training or your personal passwords to third parties is forbidden.

SpeakSmart is the training card partner of the Estonian Unemployment Insurance Fund (Töötukassa). Please see more about that HERE

.




Feedback to the videotraining:

Yes, it was in line what I was expecting. The preparatory videos Part 1 and 2 were partially useful as our debate was very interactive toward the audience needs.