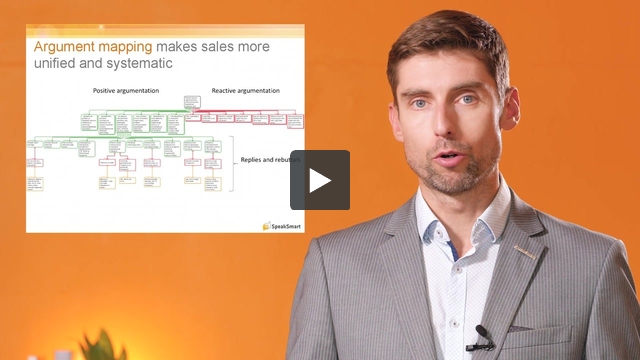 You know from previous videos what an argument is and how to construct argumentation. But how is it useful in conduction sales? And what is argument based sales? The video-training consists of two videos and the content of the video-training (total length 38 minutes) is:
Part 1: How to create a contact with the client which enables us to present sales arguments. Creative positive reputation for yourselves. Coming up with or constructing sales argument based on your current statements and data. 20 minutes
Part 2: Constructing the main message for your sales arguments for creating sales argumentation. How to choose your arguments for a specific client. Sales argument mapping. Listening for doubts and questions of the client. 18 minutes

You don't have to watch the video from start to finish, you can pause it and come back to it later. Trainer
Margo Loor
.
The video does not cover the main techniques and models of building, analyzing, and countering arguments. If you wish to know more about that, please also buy SpeakSmart video-training
"Argumentations Skills"
.

Videotraining:
Training volume: 0.9

academic hours



Price: 99 € + VAT /pp
Training time: access to the video is granted right after the invoice is paid. Access will last for 3 months

.

Video material is protected by copyright and downloading or sharing the video training or your personal passwords to third parties is forbidden.

SpeakSmart is the training card partner of the Estonian Unemployment Insurance Fund (Töötukassa). Please see more about that HERE

.