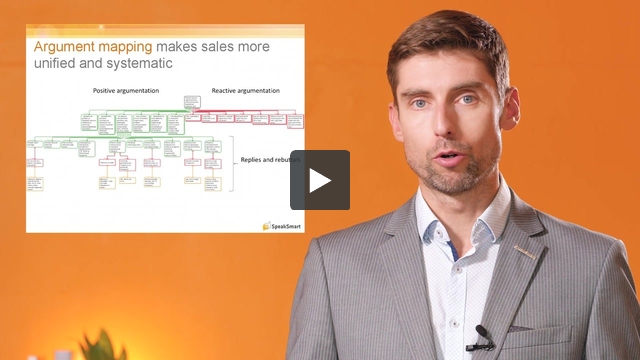 You know from previous videos what an argument is and how to construct argumentation. But how is it useful in conduction sales? And what is argument based sales? The videotraining consists of two videos and the content of the videotraining (total length 38 minutes) is:
Part 1: How to create a contact with the client which enables us to present sales arguments. Creative positive reputation for yourselves. Coming up with or constructing sales argument based on your current statements and data. 20 minutes
Part 2: Constructing the main message for your sales arguments for creating sales argumentation. How to choose your arguments for a specific client. Sales argument mapping. Listening for doubts and questions of the client. 18 minutes

You don't have to watch the video from start to finish, you can pause it and come back to it later. Trainer
Margo Loor
.
The video does not cover the main techniques and models of building, analysing, and countering arguments. If you wish to know more about that, please also buy SpeakSmart videotraining
"Argumentations Skills"
.

Videotraining for individuals:
Training volume: 0.9

academic hours/ per video

Price:

99 € + VAT /pp

Packet includes:
Access to the videotraining for 3 months

.

PDF slide materials.
Videotraining for teams:
Training volume: 0.9

academic hours / per video

Price: custom
Team packet includes:
Optional self-evaluation test before each videotraining.
PDF slide materials.
Worksheets with exemplary argumentation, based on your field of work. Each worksheet consists of an example of an argument, an example of the elements of refutation and an example of rebuilding.
Optional self-evaluation test after each videotraining.
Feedback to the videotrainings.
Optional certificates.